Thermage®
SKIN TIGHTENING: THERMAGE® NON-SURGICAL SKIN LIFT
Discover the amazing results of Thermage® non-surgical skin lift. You'll experience no downtime, no needles, and no surgery, just results!
If you seek a more youthful appearance, take advantage of this unique radiofrequency treatment procedure. Thermage® does not require invasive surgery, chemicals or lasers.
Here's how it works:
Thermage® is a radiofrequency-based device that heats the skin's deeper layers while the top layers are protected by a cooling spray. This causes collagen contraction and remodeling. The result is skin tightening without any down time. Thermage® is a proven radiofrequency treatment that can help improve the appearance of sagging or loose skin, giving you a smoother, sleeker and younger look.
Thermage® for the Face
Thermage® helps smooth and tighten your facial skin, while redefining your natural facial contours– all in a single treatment. The Thermage® facial procedure lasts about 45 minutes. After treatment, you can reapply make-up and return to your routine activities.
What the face procedure treats:
Sagging skin
Loose jowls or lack of definition in the jaw line
Sagging skin under the chin ("turkey neck")
Wrinkles and fine lines around the mouth, eyes, or forehead
Lack of lip definition
Thermage® for the Face Before & After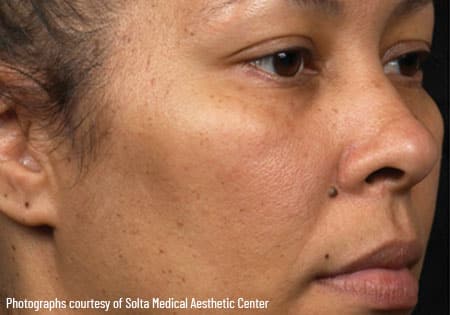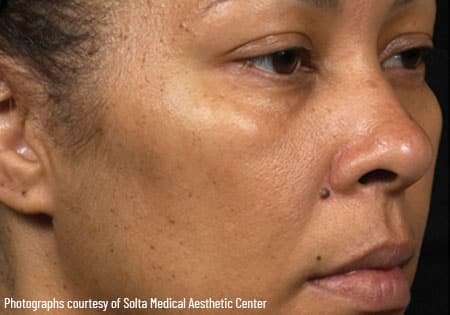 Thermage® for the Eyes
The non-invasive skin tightening Thermage® procedure helps smooth and tighten skin around both the eyes and eyelids, for eyes that look younger, lifted, and more awake.
What the Eye Procedure Treats:
Tired looking eyes
Excess skin on the upper eyelid (also known as "hooding')
Crepey texture of eyelids, which can make it hard to apply eye shadow or eye liner
Wrinkles and fine lines around the eyes ("crow's feet")
The results of a Thermage® skin tightening procedure vary from subtle to dramatic. Generally, some improvement is immediately visible and continues for up to six months. Results from skin tightening Thermage® can last for years, depending on skin condition and the aging process.
Thermage® for the Eyes Before & After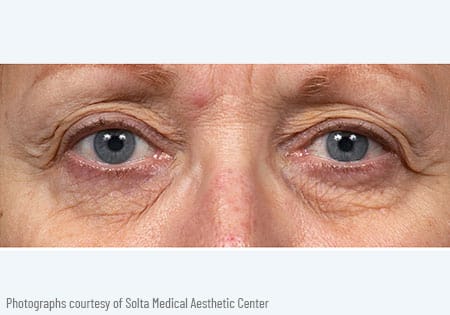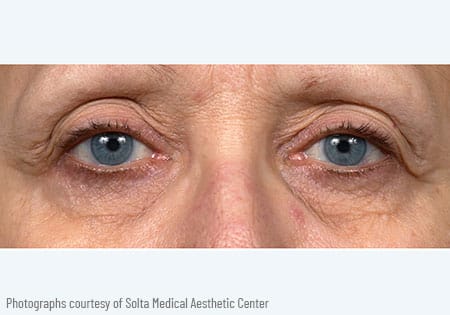 "The prospect of treating sagging skin and wrinkles without incisions or downtime meets the needs of patients who are looking for subtle improvement or who are not ready for a traditional facelift," explains Dr. Schulz.
The heating action causes the deep structures of skin to immediately tighten. Over time, collagen remodeling will further tighten skin and produce a more youthful appearance. Because Thermage® targets the deep layers of skin, the firming results are more significant than other superficial remedies for aging and sun damage.
Infinity Skin Care offers an individualized treatment plan based on a patient's specific skin needs. We pride ourselves on our medically based, ethical, and safe environment.