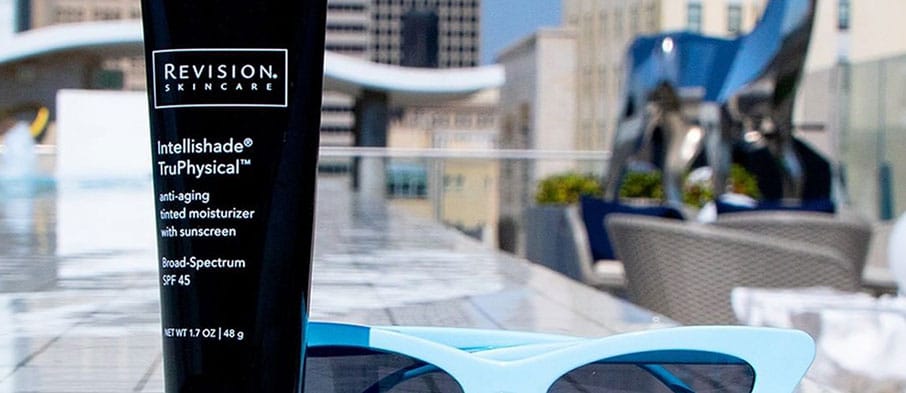 Anti-Aging Skin Care
Infinity Skin Care is pleased to introduce its patients to our newest skin care line, Revision Skin Care. Revision Skin Care is a complete line-up of scientifically based and meticulously created skin care products that are formulated to deliver maximum stability and optimum results. Dr. Schulz has carefully selected the products from the Revision Skin Care line that she feels will best fit the skin care needs and budgets of our patients, while complementing existing skin care regimens.
In creating their products, Revision Skin Care is fully committed to long-term skin health using 5 formulation strategies:
Skin care products with multiple pathways into the skin.
Pioneered use of peptides proven for their powerful results and tolerability.
Skin neutral pH levels that mimic your own skin's pH levels.
Microbiome technology which balances and promote skin health through Prebiotic Technology.
Masterfully formulated for easy application at home.
Revision Skin Care Products
NEW! DEJ Daily Boosting Serum™
DEJ Daily Boosting Serum™  is a powerhouse serum formulated with patent-pending Sunflower Sprout Extract Technology that has been clinically proven to impact the visible effects of glycation on skin. In addition to Sunflower Sprout Extract, DEJ Daily Boosting Serum™  contains a robust antioxidant blend, Acetyl Hexapeptide-1, and other efficacious ingredients to:
Help protect the skin's energy source
Support skin's natural collagen and elastin so the appearance of skin firmness and elasticity can be maintained
Improve the overall appearance of photodamage that include more noticeable wrinkles, loss of skin elasticity, rough skin texture and uneven skin tone
Strengthen the skin barrier
Visibly reduces the appearance of sagging, wrinkles, redness and hooding around the eye area and eyelid
Provides intense hydration and helps boost skin's ability to attract and retain moisture
Helps shield against free radicals that cause premature aging
Supports the skin's Microbiome with Prebiotic Technologys
DEJ Face
Supports the skin's Microbiome with prebiotic technology
Provides intense moisturization for smoother skin texture
Helps enhance the skin's natural moisture barrier with Lipid Technology
Adds volume and plumps the appearance of thinning skin
Intellishade TruPhysical
Over 20 age‐defying, beneficial ingredients
Reduces the appearance of fine lines and wrinkles
100% all‐mineral technology that provides broad-spectrum UVA and UVB SPF45 protection
Helps skin appear firm and lifted
C+ Correcting Complex
Helps to support the skin's natural production of Vitamins C and E
Delivers the next generation of Vitamin C—correcting existing damage and defending your skin for the future
Supports the skin's Microbiome with prebiotic technologys
Nectifirm Advanced
Targets visible signs of moderate to advanced aging
Industry-leading Microbiome technology plus eight distinctive peptides
Enhances skin's own antioxidant system with Smart Antioxidant Technology
Reduces the appearance of adipose tissue and rough, crepey skin
Smooths the appearance of lines and wrinkles
Retinol Complete 0.5%
Brightens, plumps and smooths skin's texture
Contains time-released Retinol for maximum efficacy with minimal irritation
Boosts skin's hydration level to help combat the dryness associated with Retinol
Available in two strengths based on skin's tolerability
Revox Line Relaxer
Forehead Lines
Glabella Frown Lines
Crow's Feet
Bunny Nose Lines
Nasolabial Laugh Lines
Lip Lines
Marionette Lines
Youthfull Lip Replenisher
Visibly volumizes and defines the lip
Hydrates and soothes
Defends against environmental stressors