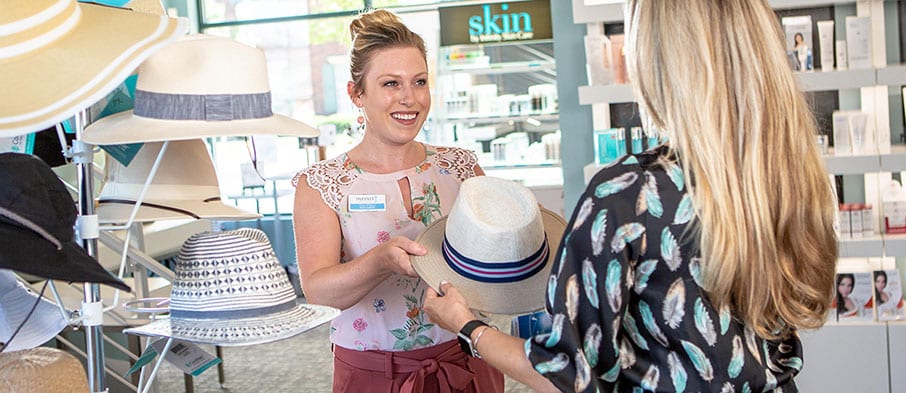 Coolibar
Coolibar brings Australian advances in sun protective clothing to America.
Our research, experience, and dedication to the science of sun protection are the basis for all our products. Australians have made sun protection a national health priority for more than a decade. The name Coolibar comes from a eucalyptus tree found in the harsh Australian outback. Our company — like the Coolabah tree — provides welcome relief and protection from the sun's damaging ultraviolet rays. In fact, our sun hats, UPF clothing and sun protection swimwear were the first garments recommended by the Skin Cancer Foundation. While sun protective clothing is a rather new concept in America, it has been used in Australia for years. It's now more widely used than sunscreen. Our sun hats, SPF protective clothing, and UV protective swimwear are designed to cover a maximum amount of skin. Our highly protective fabrics are cool, comfortable and fashionable. Regular summer clothing just doesn't provide much sun protection. Why? Often, too much skin remains exposed. Summer weight fabrics actually let through an astonishing amount damaging ultraviolet rays. In fact, summer clothing is less protective than SPF 30 sunscreen. For maximum UV protection in the water, try our rash guards. While on land, check out our UPF clothing. Coolibar provides ultimate sun protection . . . because it's all we do.
EltaMD
The sunscreen dermatologists choose
When used with other sun protection, EltaMD sunscreens help prevent sunburn and decrease the risk of skin cancer and early skin aging. EltaMD sunscreens are formulated with transparent zinc oxide and are non-comedogenic, fragrance-free, paraben-free, and designed for sensitive skin.
Oil-free EltaMD UV Clear helps calm and protect sensitive skin that is prone to breakouts, rosacea and discoloration. It contains niacinamide (vitamin B3), hyaluronic acid, and lactic acid. All these ingredients promote the appearance of healthy-looking skin. EltaMD is very lightweight and silky and may be worn under makeup or alone.
Stop by Infinity Skin Care today and sample EltaMD. You can also learn more about the many sunscreens Dr. Schulz has personally handpicked for your healthiest skin.
Sun Protection Tips
Use every day of the year. Even on cloudy days, up to 80 percent of the sun's harmful rays reach the earth. UVA light penetrates window glass and can account for a great deal of unintentional exposure.
Wear sunscreen that has at least a sun protection factor (SPF) of 30.
Sunscreens work by absorbing most of the sun's rays before they penetrate the skin, but some get through. Effective sunscreen includes an ingredient called Parsol (avobenzone) that blocks the full spectrum of UVA light. Many ingredients block UVB light well. Avobenzone should be 3%. Sunblocks such as a zinc oxide or titanium dioxide block or reflect the sun's rays. Look for at least 7.5% titanium dioxide or zinc oxide if the sunblock is chemical-free. Lesser percentages are acceptable in combination products.
Water resistant sunscreens protect skin for 40 minutes of water exposure, waterproof sunscreens for 80 minutes.
Use plenty of sunscreen/sunblock. Studies have shown that the average person uses one-half the amount of sunscreen for adequate body coverage. Dr. Schulz recommends that adults use at least an ounce of sunscreen to adequately cover themselves. Children require about half this amount.
Important! Remember to apply sunscreen and an antioxidant every day, even when it's cloudy or cold outside!
Skin cancer is the most common form of cancer in the United States. More than one million skin cancers are diagnosed annually.
115,500 melanomas will be diagnosed this year with 8,400 resulting in death. One American dies of melanoma every hour.
One in three Caucasian will develop skin cancer in their lifetime.
1 in 60 people will be diagnosed with skin cancer in their lifetime.
More than 90 percent of all skin cancers are caused by sun exposure.
One blistering sunburn in childhood more than double the risk of developing melanoma later in life. Five ordinary sunburns more than doubles the risk of developing all forms of skin cancer.
Be comfortable in the skin you were born with! Whatever your skin type, protect it! Protecting your skin throughout your life will ensure more beautiful, younger looking skin as you age!
Say no to tanning beds! Tanning devices emit UVA light which can damage the skin and eye as much as direct sunlight and have been linked to an increased risk of developing melanoma. If your teenage daughter desires tan skin for a special event like prom or spring break, encourage her to go the safe route: a spray tan that can last up to a week.
Wear protective clothing, a hat and eyewear.
To reduce the harmful effects of sun exposure, you should protect your eyes and skin every day.
Try to avoid being directly exposed to the sun between the hours of 10 a.m. and 4 p.m. That is when UV rays are the most intense.
Wear wide-brimmed hats and sunglasses that block UV rays.
Dress in long sleeves and long pants or skirts, if possible.
Protect all exposed skin by using a broad-spectrum sunscreen with an SPF of 30 or higher.
Do not use tanning beds or sun lamps.
Wear sunglasses that block at least 99% of UVA and UVB radiation.