Back to blog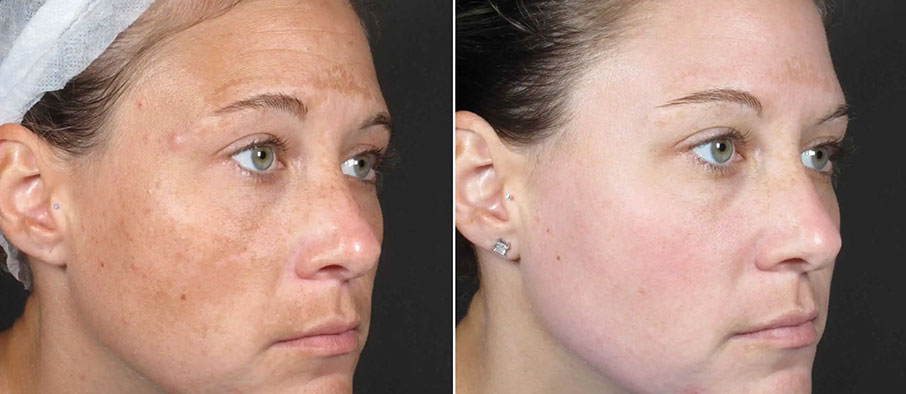 Bye Bye Brown Spots: It's Pigment Month! 
Brown spots. They come in all shapes and sizes. But, no matter how many or where, they signal aging, damaged skin. Each year, September rolls around (Pigment Month) and Infinity Skin Care focuses on reversing summer sun damage and the brown spots that come with it.
So, if you're one of the millions of Americans with brown spots, where do you start? Schedule a skin care consultation with one of Infinity's knowledgeable providers. They will discuss the many treatment and product options available to you and will help determine what will be most effective in reducing the pigmentation issues you may be experiencing. Do you have many small spots? You may benefit from a series of microneedling procedures or an IPL (Intense Pulsed Light) Photofacial. IPL is an Infinity favorite. With little or no downtime, multiple complexion problems are addressed by a single treatment. Absorption of light energy into skin fades redness and shrinks dilated vessels. Brown spots are exfoliated and skin texture is refined. Four treatments every 2-4 weeks will dramatically lighten and remove brown spots. Mild to moderate swelling is common following IPL,
Microneedling, especially when paired with pigment-targeting products like SkinBetter Science Even Tone Correcting Serum, Intensive AlphaRet Overnight Cream or Revision Skin Care C+ Correcting Complex, is effective in breaking up and minimizing the appearance of pigmentation. Microneedling is a procedure in which tiny micro-injuries stimulate new collagen production and skin cell renewal. The skin's repair process results in a thicker dermis with an overall improved appearance and a softer tone in texture. It can be used on the face, neck, chest, and hands.
Do you have brown spots, melasma and/or in combination with wrinkles and moderate photodamage? Schedule a series of Fraxel Laser Resurfacing to completely rejuvenate the upper layers of your skin. Fraxel will not only give you the even complexion you're hoping for, but also buff out fine lines, wrinkles and acne scars.
Once your pigment has been addressed, maintain your results with daily sunscreen use and regular chemical peels or microdermabrasion. Infinity Skin Care offers and extensive selection of chemical peels for a variety of skin types. These include our starter Glycolic Acid Peel, our Acne Peel with Salicylic Acid, our AlphaRet Peel by SkinBetter Science and our popular Vitalize Peel. Infinity Skin Care also offers the Dermaplane Peel with CO2 Therapy. This 3-step treatment improves skin texture and radiance, diminishes fine lines and wrinkles and lightens dark spots.